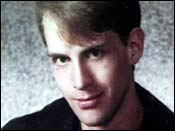 Brian Lykins
&nbsp
Brian was born on December 22, 1977 in Las Vegas, Nevada to Steve and Leslie Lykins. He died on November 11, 2001 as a result of an allograft which had been contaminated with bacteria from the bowel of a cadaver donor which was manufactured and sold by Cryolife, Inc.
&nbsp
Brian grew up and attended school in Faribault, Minnesota with his parents, his twin brother and a younger sister. As a child, Brian liked school and enjoyed life. In the fall of 1999, he moved to Colorado Springs, Colorado, where he lived for a slightly over a year. In November of 2000, Brian moved back to Minnesota, establishing a home in Willmar, approximately 100 miles west of Minneapolis-St. Paul. He returned to Minnesota in order to be closer to his family, which was always important to him. He enrolled at Ridgewater College in Willmar pursuing a degree in electrical engineering. While attending college, Brian also worked in the field of electronics at UMEC USA, Inc., a division of Universal Microelectronics Company. In the field of electronics and computers, Brian had found his niche in life, doing something which he both enjoyed and had an aptitude for.
&nbsp
Brian was musically gifted although he never took formal classes in music. He learned to play classical music on the piano by ear from listening to recordings. Music was a large part of his life and he used music as a method of relaxation. He was also gifted in graphic arts, particularly drawing. He also was a lover of animals and always had pets. He was a person of tremendous loyalty to those around him. He was often called upon by his college classmates for assistance because of his electronics aptitude and gave willing of himself to provide whatever help he could. He also had a tremendous work ethic to achieve the goals he set for himself.
&nbsp
Brian had great expectations for his future beyond career oriented goals. His greatest ambitions were looking forward in life to the day he would marry and to the day he would become a dad.
&nbsp
&nbsp
&nbsp